I officially love Fetching! As I was working this pattern, I realized that working on DPNs is my favorite way to knit. I definitely need to learn how to knit socks.

In the meantime, I learned the cable cast-on, how to make a thumb (using waste yarn, pulling it out, then picking up stitches), and do a knit picot bind-off with this pattern.

AND, this is a feat for me. I finished it in TWO DAYS! I started it at our WWKIP (World Wide Knit in Public) Day event and finished it last night (and not late either). I worked on it while I was chatting with ladies at my church's 3rd Annual Ladies Spa Day so I got a good chunk done there.




I still need to work in the ends, but it's basically finished. I also made sure to start the next one right away so I (hopefully) don't get catch "second-sock syndrome" (a knitters "illness" in which the second item in a pair is not made, or delayed, because the knitter loses interest in the pattern). We'll see how successful I am, considering the number of UFOs I've got stashed away. People, I am sick. SICK!

Speaking of UFOs....here is the Clapotis. Horribly neglected for the past few days, but still in my WIP (Work in Progress) bag.




I love this pattern, and I love this yarn. It's such a beautiful color and texture. I think it will be my favorite scarf for the winter in San Francisco.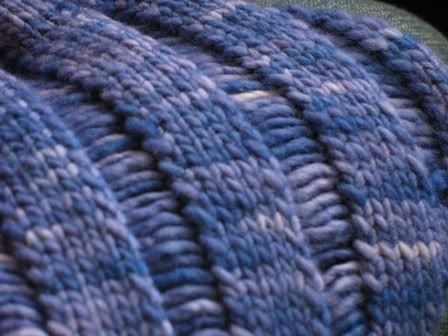 I think it's kinda weird that I've been so interested in knitting cold-weather items. Perhaps I'm subconsciously preparing myself for the colder climate in SF (sheesh, I'm talking like we're moving to Wyoming or something, ha!), and using this as my therapy. All I know is that I'm going with it!

Hopefully I'll finish that tank top sometime before summer ends so I can actually wear it. Or maybe I'll end up working on it in the winter so I can feel closer to summer. I am so weird.

Lastly, going back to my Ladies Spa Day reference, I got my hair cut! I also got my eyebrows a bit more under control, thanks to the wonderful women at my church. For the past three years we've done a spa day where brunch and various treatments are available to the women and guests for FREE! It's an awesome opportunity to spend time together and fellowship as women and be pampered. A number of women in our church are skilled in various areas, so it makes for a fun day.

This is kind of a weird picture - it's at a funny angle, but I was having a hard time getting Nathan or I to get a good picture. Most of you who read this will see it in person soon enough anyway!




By the way, if you look closely, you can see that my shoulders got a bit burnt at WWKIP. I wasn't expecting to stay as long as I did, and I paid for it - I really need to find my sunscreen!

PS: I forgot to mention the cool new sidebar gadget. I discovered My VisualDNA through Tracy and Chauntel's blogs. And I liked it so much that I personalized it and put it up here. It's pretty accurate in describing me if you go to the website and view the details of each "label". I don't know where you gals find this stuff.